Christmas 2022 Postage/Deliveries and FAQs

Now we are in the mad December season it's very hectic for small businesses like me so I just wanted to clarify my processing and postage times, cut-off dates, and how I am dealing with the mail disruptions.
In summary:
Last Order Date: Saturday 10th December
Online Sale Date: Thursday 15th December
Last Posting Date: Friday 16th December
Last Order Dates
Please get your orders placed by 10th December 2022 - this will give you the best possible chance of receiving your item before Christmas.
I aim to get all of my orders shipped off before the Royal Mail last posting dates (see below) so will be shipping up to Friday 16th December. I will be sending all orders 24hr 1st class tracked with Royal Mail.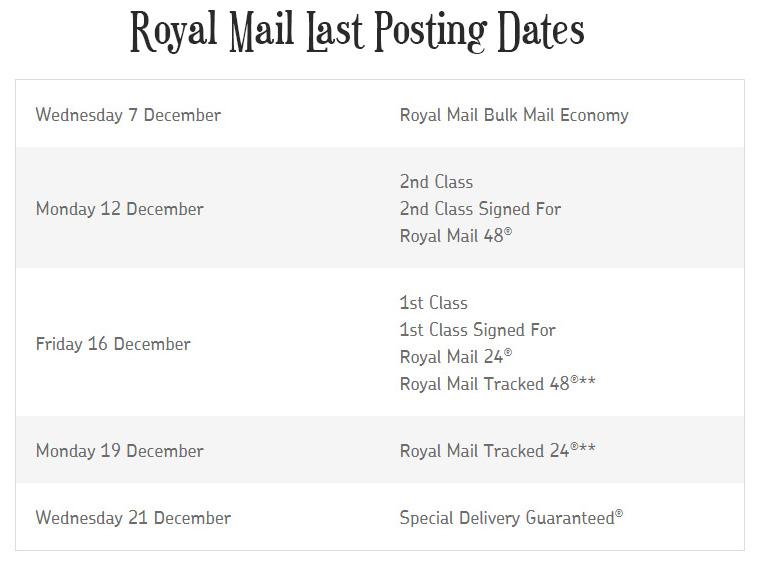 Can I order after the 10th December?
Yes, you can, however, depending on your order you may not receive it before Christmas. I make most of my items to order, but do keep some items ready-made in stock, and some items are quicker to make and process than others. For example, a generic item that does not need to be oiled and therefore dry before sending will be ready to ship a lot quicker than a personalised item that requires oiling and sealing and drying time. Processing time will also depend on how many orders are already in the queue.
Feel free to contact me before ordering and I can advise on the processing time and if I can post before Christmas.
Why are you still using Royal Mail?
The simple reason is I find them the most reliable. I have tried various other courier services but have been disappointed. So, despite the strikes and inevitable delays, I am sticking to the service I trust the most.
No Guarantees!
With the current mail strikes I can not guarantee any orders will definitely reach you before Christmas. Mail backlogs are very dependent on the area of the country you are in so it's impossible to make any promises.
I will of course do everything in my power to get your order shipped out ASAP, but once the item is shipped I have no control over how long it takes.
Not received your item?
Please be patient. I can give you the tracking info, but can not raise a lost package case until at least working 10 days after delivery is due. Royal Mail has NEVER lost one of my packages (yet - fingers crossed!) so please have faith that your item will be delivered. I will not send any replacement items if the tracking shows the item is still out for delivery.
If you do not receive your item in time for Christmas then why not print an image out of the gift instead and wrap this? The item will arrive after Christmas and your loved one will have something to look forward to.
Ready to Ship and Sale Items
All items in my Ready to Ship section, Sale section and all items in my Facebook Christmas Sale are already made and ready to post. These can be sent the same or next working day after ordering.
Collections
You are welcome to collect orders from me in Taunton, Somerset (by prior arrangement) and if I have it in stock you are welcome to collect right up until Christmas Eve.
Get in Touch
Please don't hesitate to get in touch with me if you have any queries about processing times, deliveries or anything else. I am always happy to help.